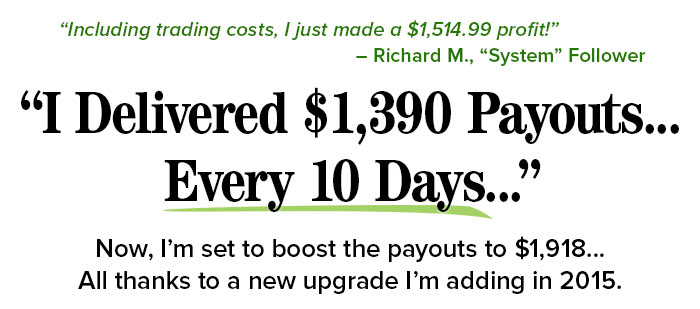 Dear Reader,
Hedge funds swear by it.
It helps them bring in more than $60 million per day in profits.
Legendary trader James Simons used it to amass his $12.5 billion fortune… and billionaire Robert Mercer used it to make $125 million – in just one year.
But few outside the rich and well-connected have ever used this secret.
The truth is… until recently, regular investors like you and me had virtually zero access to the field of cutting-edge technology that's largely responsible for their fortunes… one that can put steady cash payments directly into your trading account.
But thanks to an incredible system I've developed, I've been showing ordinary investors how to collect an average of $1,390… EVERY 10 days.
Sometimes it's more. Sometimes it's less.
And this past year alone, it identified dozens of opportunities for investors to collect thousands of dollars in extra cash.
Exactly how much are we talking?
Just to highlight a few of the payouts that were possible…
In March, you could have scored an extra $6,401…
April would have shown you $7,487…
July provided the opportunity for $14,450…
In August, you could have pocketed a cool $21,627.
You could have followed my work with this simple system to lock in winners totaling $16,316 in September… then $10,179 in October.
In fact, since 2011, we've closed out a total of 137 positions… or one play every 10 days.
And a flat $10,000 in each would have handed you $190,379 over the last four years alone.
I should also mention that this system-based research just received an award from The Oxford Club's Executive Director Julia Guth for having the best winning percentage in 2014!
Now, I could go on…
But first, I want to stress one thing.
The type of system I'm talking about today does not take constant monitoring. It's not the type of microanalysis program that lets you capture a few percentage points here and there.
And it's not based on an options scheme… risky bonds… annuities… life insurance… or any other traditional income methods.
It's much simpler than all that.
In short, it involves a computer program that identifies pricing mistakes in certain stocks…
It alerts you when a stock's price is far too low. And then you capitalize when it swings higher.
I've tested this system on years' worth of data – we're talking billions of variables in over 450 unique stock and industry characteristics…
I've back-tested it through every type of market imaginable…
And as I suspected, the results were incredible…
In fact, one of the individuals I invited to follow my work with this system wrote in shortly after getting started and said, "Including trading costs, I just made a $1,514.99 profit (98.6%). Thanks for the trade! Keep up the good work…"
And another sent me an email saying, "I made double on one of your recommendations and was glad I took your advice! Super system!!"
Yet another wanted to tell me he was "Happy to have made a thousand bucks risking $400. That is a killer profit ratio."
All told, my system has helped me deliver payout opportunities that averaged $1,390 every 10 days…
But beyond all that, I've found something else…
It's the reason I wanted to contact you urgently.
You see, I've found a way to significantly increase the payouts in 2015.
It has to do with a unique upgrade I've found that boosts payouts by 38% and takes everything to the next level.
We're talking an average of $1,918 every 10 days over the next year.
That adds up to over $69,048 – in extra cash – if you follow my detailed instructions each week.
When I first found it, I must admit, I was quite surprised. My system was already performing so well that I really didn't think it could get any better.
But based on my research, I expect this upgraded system will spotlight at least 34 new opportunities this year that could produce even bigger cash payouts than the ones we've seen in the past four years.
Just imagine what you could do with that extra money.
Your total "cash in the bank" could reach $5,820 each month… enough to pay the mortgage on a 5,500-square-foot lakefront home.
As I'm about to show you, there's truly no end in sight to the potential cash you could collect thanks to this easy system…
Get Ready…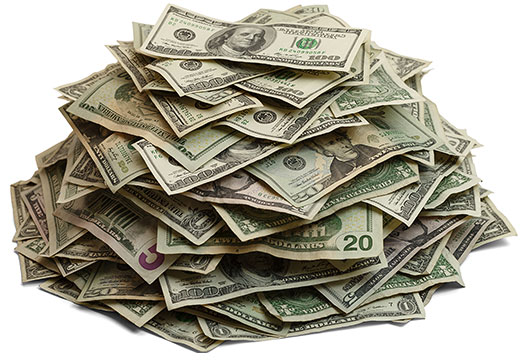 Starting tomorrow, you could begin pocketing the kind of extraordinary payouts – every 10 days – that would take most investors years to make…
I'm talking about paydays of $5,612… $789… $7,487… $12,000… $411… $1,627… $20,000… $1,312… $2,306… $14,550… $179… $1,338… $10,160… $1,148… $10,000…
All in just one year.
Just imagine collecting a cash deposit in your account averaging $1,918 every 10 days… or about $5,754 every month.
Consider how much more relaxed and worry-free your life would be if you could score incredible gains like those – regularly.
But before I get carried away, there is one catch.
This type of strategy may not be right for everyone…
If you're satisfied sticking with blue chips or index funds, just to make 4% or 5% a year…
Or if you're already bringing in more than this without having to work for it…
Or if following simple instructions designed to help you profit from stocks that are priced too low sounds like hard work…
My system-based strategy is probably not for you.
But if you're the type of person who wants to enjoy the soaring profits that come with a proven system…
If you're looking for something that works in volatile up or down markets, prolonged bulls or bears… even in sideways or recessionary markets…
If you want the chance to pocket extraordinary sums every 10 days instead of waiting months or years…
And grow a respectable retirement nest egg in no time…
Then I encourage you to pay close attention to what I'm offering you today.
Just this past year, a $10,000 investment in some of the top plays I generated (thanks to my system) would have created profits of…
$1,148 on September 29
$7,487 on April 11
$5,612 on March 28
$10,160 on September 29
$14,550 on July 1
$10,000 on May 6
$1,338 on September 24
$10,000 on October 29
$20,000 on August 7
$1,312 on September 11
$1,627 on August 1
$12,000 on March 5
I know… most investors can only dream of getting these fat returns on so many trades…
And although not all of my picks will reach such extraordinary highs…
I do find many solid opportunities like those I just mentioned on a consistent basis.
How is that possible?
It has to do with a simple fact of investing.
No human can truly understand everything going on in the stock market at one given time.
You see, there are so many variables to analyze in the thousands of stocks trading all at once that even the most hardened traders are really making decisions based on very limited knowledge.
That means that certain stocks will always be priced incorrectly. Some might be too high and others too low.
But by the time you figure out a stock is priced much lower than its actual value, chances are it will be too late.
Other analysts, Wall Street firms or high-level traders figure it out first. The stock price goes up. And you're too late to the party.
But my system evens the playing field… and uncovers the pricing mistakes (and biggest profit opportunities) in mere seconds.
Every month, there are several opportunities to collect serious profits.
In October, the winning plays could have made you $10,179…
In August, $21,627.
And while the winners from my system would've produced "only" $7,487 in April…
You could have collected $16,316 in September.
In the next few minutes, I'm going to share all the exciting details of my system – and the new "upgrade" – with you…
I'm going to show you exactly how easy it is to use…
And how, starting tomorrow, you could begin collecting gains that average $1,918… every 10 days.
But first, I want to take a minute to introduce myself and tell you how I came up with this system in the first place…
Allow Me to Introduce Myself…
My name is Marc Lichtenfeld.
I've spent most of my life following my passion for discovering market anomalies – particularly ones that Wall Street has either not yet discovered or misunderstands…
I began my Wall Street journey nearly 20 years ago as a trader at Carlin Equities…
Then, I accepted a position as a senior analyst at the Avalon Research Group, where my recommendations tripled the performance of the S&P 500.
A few years later, I moved on to Weiss Research where, in the six months I co-managed the Real Wealth Portfolio, it beat the S&P 500 by 17%.
Then, I joined The Oxford Club.
The expertise I've gained over the years has earned me a regular spot on CNBC as well as many guest appearances on Fox Business, Bloomberg Radio and countless other programs throughout the country.
I even host my own weekly broadcast, Marc Lichtenfeld's Oxford Club Radio.
It has over half a million downloads.
What my experience has taught me is what separates me from other analysts… and it's what shaped my investment approach into what it is today…
Here it is: If you want to be successful in the markets, it is essential to gain some sort of real and consistent trading advantage.
You simply cannot afford to rely completely on gut feelings, hope, trust or emotions.
Because that's what gets most investors into trouble.
So a few years ago, I set out on a mission to develop a system that could analyze the stock market and all of its data in mere seconds…
And then tell me when certain stocks were mistakenly priced too low.
This happens more often than you might think.
Some stocks end up trading for a short time at a price that's simply way too low. And when the markets notice, it can very quickly snap back to a higher price.
But it's difficult to spot these moments (out of almost 4,000 publicly traded stocks) with regular analysis…
After all, 5.7 BILLION shares of stock change hands every day.
You need a complex computer program to analyze the markets as a whole to find these pricing anomalies.
So the first thing I did was contact the premier designer of very powerful supercomputers.
He's designed supercomputing systems for the Citadel Investment Group's hedge fund, Bank of America, Morgan Stanley and the Stanford Graduate School of Business.
And his systems are very successful.
But nothing compares to his latest project – a supercomputer that blows away everything he's done in the past.
It has the power to incorporate billions of variables and crunch way more data than any other system I've seen.
Once I made an arrangement with him to use his supercomputing system, I set about the next step… creating my own stock analysis system – using this supercomputer – and applying it to the market.
Using my program, the supercomputer isolates stocks with very strong financial numbers, but at an unnaturally low price. This is an easy way to spot stocks on the verge of a major move.
I call my model "S.T.A.R.S" – short for Stock Trading Analytical Research System.
Using it, I've been able to isolate investment opportunities that have, on average, helped investors pocket an extra $1,390… every 10 days for the past four years.
Of course, that's without the new "upgrade" I've identified that could take those paydays 38% higher…
But before I tell you more about that, let me explain exactly how the system works…
Here's How It Works…
Take a look at this short baseball clip…
No doubt you've seen something like this dozens of times…
It's an obvious ball and yet the umpire called it a strike.
What's at play here?
Human error.
The umpire's eyes are simply not capable of seeing all the variables and making the correct call.
Now a computer never would have made that mistake. With today's modern computers, even a 90 mph fastball can be judged and accurately declared a strike or a ball on hundreds of pitches… without error.
And that's very similar to how my system works…
In the same way that a computer can clearly recognize a strike versus a ball…
My S.T.A.R.S. system can identify which stocks are mispriced and trading inside the "strike zone," ready to soar… and which ones are outside and should be avoided.
In other words, the system allows me to eliminate the human error involved in stock prices.
It takes into account cash flow growth, management efficiency, buying and selling activity, price action and more…
And uses a highly sophisticated algorithm that allows me to spot the stocks trading too low and get in before they swing higher.
I'll PROVE to you today that this is the best thing for your money, year after year.
But first, I'd like to share the results of my original S.T.A.R.S. tests with you…
A Proven System for Capturing
Market-Crushing Gains
You see, before I launched my system, I had to test it. So, I took all the stock market data between 2001 and 2011 and put it into the computer system.
I then asked the computer which stocks it would have selected each year during that time frame.
Here's what happened:
During the dot-com collapse in 2001, the Nasdaq lost a full 78% of its value. But over the same period, S.T.A.R.S. did so well that the worst-performing stock it selected still went up 39%.
In 2009, it was right on

every single stock

it selected with a low gain of 22.5% and a high of $290%.
And in total, the system outgained the S&P 500 by 1,568% from 2001 to 2011.
The conclusion was clear…
Regardless of what was going on in the markets… in politics… or otherwise, my system was capable of dominating the stock market.
And when I launched my system in real time, the results were just as astounding…
$1,390… EVERY 10 Days
For four years running, my system has allowed me to help people lock in incredibly high gains in very short periods of time.
In fact, based on a simple investment of $10,000 in just a few of our winning plays, you could have made $2,128 in 13 days… $13,684 in 15 days… $11,000 in 22 days… $12,000 in 28 days… $12,211 in 43 days…
The list goes on…
And your paydays could be even higher depending on how much you invest.
Here's a glimpse at the winners you could have pocketed since I launched my system…
2011 2012 2013 2014 $2,128 on 1/24/11 $1,000 on 1/13/12 $1,935 on 1/9/13 $12,000 on 3/5/14 $11,000 on 3/23/11 $20,000 on 2/7/12 $12,211 on 1/17/13 $789 on 3/28/14 $12,373 on 4/6/11 $2,000 on 2/7/12 $10,000 on 1/23/13 $5,612 on 3/28/14 $27,000 on 5/2/11 $15,723 on 3/2/12 $659 on 1/25/13 $7,487 on 4/11/14 $1,799 on 5/4/11 $22,500 on 3/21/12 $486 on 1/29/13 $10,000 on 5/6/14 $8,077 on 6/17/11 $1,871 on 4/4/12 $343 on 2/26/13 $411 on 6/24/14 $13,684 on 7/7/11 $2,718 on 4/30/12 $10,000 on 4/1/13 $14,550 on 7/1/14 $4,211 on 7/13/11 $11,944 on 4/30/12 $495 on 6/4/13 $1,627 on 8/1/14 $161 on 8/3/11 $1,439 on 5/3/12 $915 on 6/11/13 $20,000 on 8/7/14 $13,000 on 8/30/11 $8,511 on 5/4/12 $29,630 on 6/11/13 $2,306 on 9/11/14 $10,134 on 11/4/11 $1,968 on 5/4/12 $1,776 on 6/24/13 $52 on 9/11/14 $2,752 on 11/29/11 $731 on 11/8/12 $15,340 on 7/24/13 $1,312 on 9/11/14 $587 on 6/1/12 $8,750 on 8/7/13 $1,338 on 9/24/14 $176 on 6/4/12 $5,049 on 10/9/13 $1,148 on 9/29/14 $3,667 on 6/13/12 $10,000 on 10/9/13 $10,160 on 9/29/14 $11,250 on 8/29/12 $1,290 on 10/15/13 $179 on 10/7/14 $11,149 on 9/14/12 $14,026 on 10/22/13 $10,000 on 10/29/14 $12,412 on 9/14/12 $15,000 on 11/26/13 $8,750 on 9/20/12 $2,347 on 9/27/12 $5,235 on 10/17/12 $2,644 on 10/23/12 $5,474 on 10/23/12
Of course, we've had some losers in the past too, no investment strategy is guaranteed… but what could better up your chances than computer-based research?
Now, let's take a closer look at some of my winners from the past couple of months…
Pay attention to the three steps – SIGNAL, BUY, CASH IN – that each one follows.
The first is Methode Electronics.
I ran my S.T.A.R.S. system on October 14 last year.
According to S.T.A.R.S., this company was priced far too low for a company with its level of earnings, cash flow, book value per share, return on equity and more.
The computer gave me a SIGNAL that the stock should increase in value very quickly. And after doing my own research, I agreed.
The market had been sliding for a few weeks. It was the perfect stock to play a potential rebound. And even if the market kept falling, I was confident Methode would hold up well for the time being.
So I sent an immediate "BUY" alert to my followers.
Sure enough, just 15 days later, we closed out the position with a chance to CASH IN for an incredible $10,000.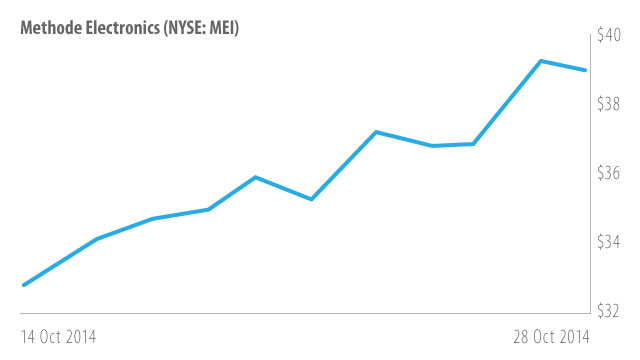 A few months earlier, on April 21, 2014, my S.T.A.R.S. system SIGNALED Hess Corp. as a stock that was undervalued and poised to jump…
I double-checked the system and saw that the company's book value per share had climbed 17% in the past 12 months… it had a 10% annual growth rate of cash flow… and a return on equity 51% higher than its five-year average.
But the stock was still selling far too low for those numbers.
The supercomputer alerted me and, upon doing my research, it was clear this play would soon jump.
So I sent out a "BUY" alert for my followers to get in right away.
And those who did could have CASHED IN for a gain of $14,550 in just over two months.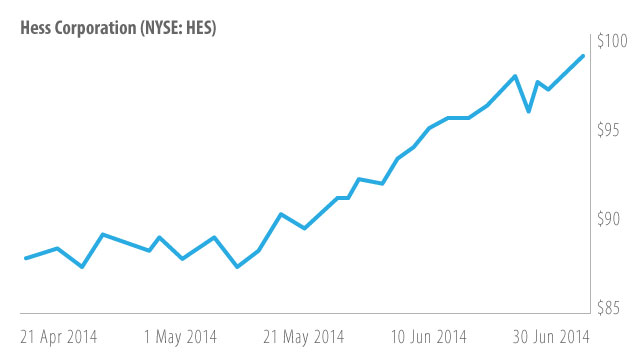 Let's take a look at one more: Sanderson Farms.
On March 12, S.T.A.R.S. picked up on several factors indicating the share price was too low.
It had surging returns on equity and on assets…
In fact, over the past 12 months, the return on equity was nearly 150% higher than its five-year average…
And the ROA was almost triple its five-year average.
On top of that, its book value per share had climbed 22% in the past year.
The computer SIGNALED that the share price ought to move much higher.
I checked it out and found that, yet again, the stock was indeed priced too low.
So I sent out the "BUY" recommendation…
And less than five months later, my readers could've CASHED IN for a profit of $20,000.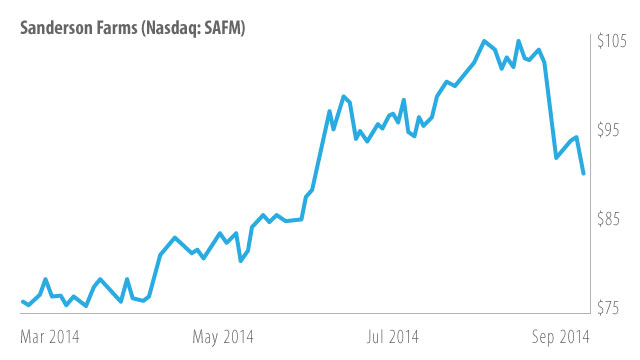 As you can see from these examples… it's a simple process.
I get the SIGNAL… I do my analysis and make it a "BUY"… and then when all goes as planned, my subscribers CASH IN.
Now, I want you to keep a few things in mind here.
First, depending on how much you invest, your payouts from this strategy could be lower or even higher than what I'm showing you here…
It's all based on an average investment of $10,000 per position.
And second, the gains I'm showing you today do not come from simply buying cheap stocks… but rather stocks that have a HIGH value and are priced too low.
There is a difference.
Cheap stocks are bad companies that you ought to avoid. Stocks that are priced too low are good companies that will likely reward you with large payouts.
With my help, you can capture these stocks when they are low and ride them higher. Or, for even greater profit potential in less time, I'll show you how to place a leveraged trade on many of the stocks I recommend.
And it's important to note, my system-based strategy does not involve day trading… and you don't need to dedicate hours every day or every week to make it work for you.
My S.T.A.R.S. system is truly different from anything you've probably seen before…
Remember, since 2011, we've closed out a total of 137 positions. On average, a flat $10,000 in each would have handed you payouts of $1,390 every 10 days… for the last four years.
That comes out to $190,379 total.
There's no doubt it's been very successful.
But don't just take my word for it. Here's a look at what real followers have had to say:
"Marc – As always, your stocks pay off. Good job, keep them coming. I can't thank you enough!" – Donald C.
"I just made a $2,020.04 profit. Thanks." – Joyce G.
"I made a double on Westlake and was glad I took your advice! Super system!!" – J.R.
"I just made a $14,000 profit on what I thought was a losing position. Thank you for your wise advice." – Paul O.
And what's coming next should be even better.
I've just made a new "upgrade" to the system that could add significant amounts to each cash payout in the coming year…
Taking S.T.A.R.S. to the Next Level
Now I know how the saying goes…
If it ain't broke, don't fix it…
So allow me to explain how this idea to "upgrade" my system came about.
To put it simply, I spend a lot of time traveling to conferences. At each one, I get the chance to meet my system's followers and hear their stories.
It's one of the best parts of my job… and it's a great reminder that the people I work for are real people just like you – with hopes, dreams and fears – who read and act on my research and advice.
One of my followers, for example, is 66 years old, and recently told me that the market crash a few years ago destroyed his financial plans. He says he's trying to rebuild and survive while racing toward old age.
Another is 60 years old, with three grown children and two grandchildren. He's entering his 31st year as an electrical engineer and project manager for a multinational corporation. He would like to retire in the next five years, but he's not sure how it will be possible since his pension has been cut multiple times.
Yet another is a single female, in her 50s, who lost her six-figure salary in 2010. She has yet to find suitable employment and is living off of her savings for the time being.
Hearing stories like these…
From widowers… retirees… farmers… doctors… successful businessmen and women… people who have lost it all… and everything in between…
Makes me want to ensure my system-based research delivers the biggest (and safest) payouts possible.
And that's ultimately what made me take a second look at my S.T.A.R.S. system recently.
As with any technology, it's important to continually update and upgrade the system to ensure you stay ahead of the constant improvements made by other traders.
Now, as I mentioned earlier, my S.T.A.R.S. system uses a unique mix of factors I identified after years and years of back tests…
They're the ones I've counted on for the past four years to hand my followers average gains of $1,390… EVERY 10 days.
But after devoting the past several months to making S.T.A.R.S. even better, I'm excited to announce that I've finally had a breakthrough…
I've identified a new factor – I call it the "Paulson Indicator" – that in testing boosted my system's payouts by an additional 38%.
So instead of an average of $1,390 every 10 days, the booster could give us the potential of $1,918… every 10 days…
Over the course of a year, that's the difference between $50,040 and $69,048.
Here's how it works…
The Paulson Indicator
I named this new factor after Hank Paulson, the secretary of the Treasury during the financial crisis, because it has to do with debt… something Hank Paulson certainly knows quite a bit about.
The "Paulson Indicator" has to do with how well an individual company can pay its debt.
If a company has plenty of cash on hand and very low debt, then it is in great financial position.
But if it's just getting by on its debt payments, there could be trouble ahead.
Of course, this idea sounds simple enough. But when the computer added this variable to the model, the outperformance shot up dramatically.
In fact, based on several historical back tests, it boosted the S.T.A.R.S. system's gain from 764% to 1,059%.
That's 38% better than the original S.T.A.R.S. formula… and a full 17 times better than the S&P 500 delivered over the same period.
Take a look at the chart below…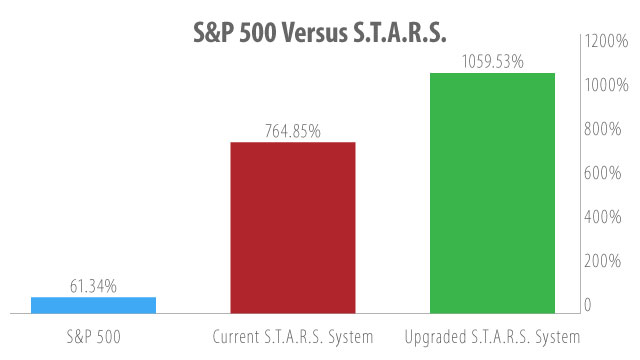 The blue bar represents the growth of the S&P 500 over the past 15 years.
The red bar represents the growth of my current system over the past 15 years.
And the green bar represents the growth of my "upgraded" system.
Say you started in 1999 with a simple $10,000 investment.
If you did only as well as the markets, your investment would now be worth $16,134.
By comparison, with my original S.T.A.R.S. system, your simple $10,000 investment would have grown to $86,485.
That's an extra $70,351 above the S&P in your pocket.
But here's the real kicker…
Using the "Paulson Indicator," my system could have boosted your investment of $10,000 to $115,953. That's an added bonus of $28,721 over my current system and close to $100,000 more than the markets.
Without question, this has the power to take something already doing very well for my subscribers and make it even more powerful…
How My System Upgrade Works…
Let me show you what I mean with a few back-tested examples from my upgraded system…
My upgraded S.T.A.R.S. system identified that on October 4, 2014, Overstock.com was trading for less than it should.
The computer was indicating that the stock was trading too low at $16.21. After conducting my own research, I agreed. According to what I was seeing, the stock ought to have been trading much higher.
Sure enough, just two months later, on December 3, the stock had risen 61.57% to $26.19 – and a simple $10,000 investment would have turned into $16,157.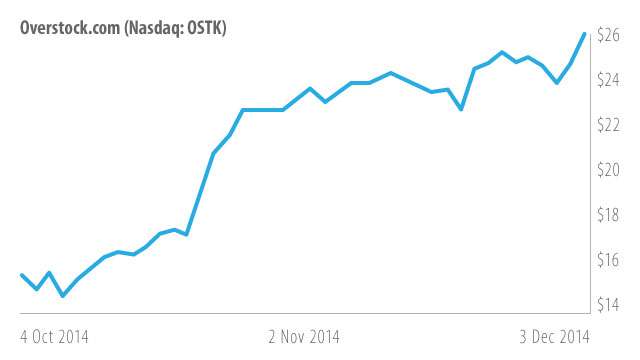 Here's another where investors could've made $1,939 – in just two weeks.
S.T.A.R.S. pinpointed Jamba Inc. The company was trading right around $12 on July 26, 2014, and my supercomputer indicated that was far too low.
Just two weeks later, the stock had shot up to $14.78, giving investors a chance at a quick 19.39%.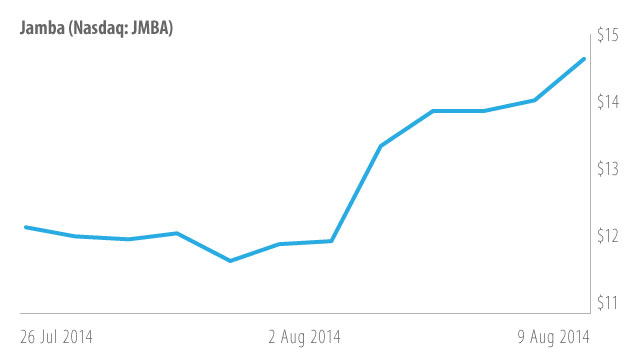 Not too shabby…
Now, let's take a look at one more: Synaptics Inc.
My upgraded S.T.A.R.S. system indicated that in January 2014, this company was about to take off.
And in just under six months, it jumped from $53.59 to $92.68. That would have given investors a chance at a nice payday of $7,294.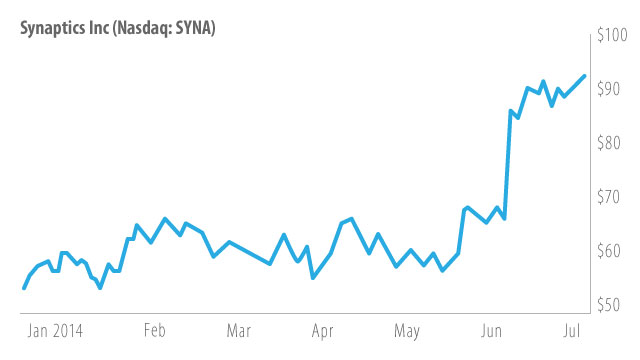 I have over a dozen more examples like these I could show you…
All with very large leaps in share price over short periods.
And what I'd like to do next is show you how you could start profiting from the upgraded S.T.A.R.S. system right away.
But first, I'd like to address any doubts you may have about how my system works…
The Ins and Outs of S.T.A.R.S…
You see, whenever I tell people about my system for the first time, they are skeptical.
And you know what? I get it.
Some people think you have to learn to use the computer on your own…
Some people think you need to be a whiz kid to collect these kinds of payouts….
Some people think it may be too complicated…
But the thing is, I do all the legwork for you. All you have to do is decide whether or not you want to invest… and ride the wave.
Now, I know outperformance in the stock market is hard. And many people make promises they can't keep.
My experience is that the best two ways of understanding how well something works is 1) Hearing from current subscribers. And 2) Trying it for yourself.
I'll show you some of the messages I've received from subscribers in a moment. And I'll show you how to try my system-based research yourself for 60 days to decide how well it works for you.
But there's something else that's very important that sometimes people forget to examine when deciding if a system works.
That is… how the system works in different markets.
Now, anyone can pick winning stocks in a bull market…
But a truly great system will find you winners even in a down market.
So, let's take a look at how my system works – in a less than perfect market…
Think back to 2001 for a moment…
The dot-com collapse was the mother of all bubbles. Companies that had terrible fundamentals were soaring in value… even though they made no money.
And by the time investors finally realized these stocks' prices were completely wrong… it was too late. Stocks collapsed and the Nasdaq lost 78% of its value.
However, this was a perfect environment for what S.T.A.R.S. does best.
During back tests, the supercomputer recognized that those stocks were WAY overpriced. It turned them down and instead focused on stocks that were priced too low.
All told, my S.T.A.R.S. system generated a return of 49.22% in 2001 while the S&P lost 13.04%.
Fast-forward a few years to 2012 – the last presidential election.
Just before the election, there was a lot of uncertainty. The markets weren't sure what was going to happen. And in about two months, the S&P lost nearly 10%.
Of course, many investors were hurt by this. But not those who were following my system.
From September to November that year, my winning plays gave people a shot at…
$12,412 on September 14
$11,149 on September 14
$8,750 on September 20
$2,347 on September 27
$5,235 on October 17
$2,644 on October 23
$5,474 on October 23
$731 on November 8.
That's a grand total of $48,742!
Even during a fairly dramatic correction.
That's the power of the S.T.A.R.S. system. It scours the market, looking for recurring patterns or situations where a definite trend upward is likely to occur.
Then, when it has a perfect match, I step in.
I analyze the ins and outs of every viable company S.T.A.R.S. identifies and then I decide on an action.
Once I find a play that I feel will give my followers a great opportunity for strong gains at a low risk, I send them an alert.
Short and sweet. There's no need to be glued to your computer… no superlong article to read… nothing like that.
I will tell you exactly when to buy… and exactly when to sell.
It's remarkably easy to use and follow…
And starting tomorrow, you could use it to collect an average $1,918… every 10 days.
An Essential Investment Tool
By now, I hope you're starting to see how my S.T.A.R.S. system could be essential to achieving all your financial goals.
It identifies stocks that are in a very strong position, but trading too low… and

that are invisible to most everyone else

.
It gives you the opportunity to score fat returns on trades that most investors could only dream of…

on a consistent basis

.
It allows me to identify

the most profitable trends

.
It helps me give clear, unbiased, unemotional "Buy" and "Sell" recommendations in advance,

so there's never any wondering or worrying about when to make a move

.
Its insights could actually help you eliminate all of your money problems…

once and for all

.
And the best part?
Once I add the "Paulson Indicator" to my S.T.A.R.S. system, the $1,390 payouts that my followers collect every 10 days on average could jump to more than $1,918.
So how do you find out which stocks my system says are priced too low right now?
The key is my premium research service, Oxford Systems Trader…
Seeing Is Believing…
Once you join my Oxford Systems Trader, I'll alert you anytime I find a stock that S.T.A.R.S. identifies should move higher.
I'll lay out the basic case for why S.T.A.R.S. identified it. I'll give you my personal analysis on why it is a strong "Buy." And then I'll give you the proper price to get in.
And I expect us to do very well based on the testing I've done on the new upgraded system.
Here are a few historical examples where you could have capitalized from the upgraded S.T.A.R.S. just in the past year…
From November 15 to December 3, you could have made $1,499 on Winnebago Industries Inc…
From September 6 to November 26, you could have made $2,225 on Dot Hill Systems Corp…
From May 31 to July 3, you could have made $1,232 on Benchmark Electronics…
From April 5 to July 14, you could have made $3,395 on Sanderson Farms Inc…
From February 22 to May 7, you could have made $2,786 on Aceto Corp…
My Oxford Systems Trader gives you everything you need to earn way more money… faster… and with less risk… than you could just about any other way.
Three Ways My Oxford Systems Trader Could Change Your Life
There are three reasons I believe my Oxford Systems Trader is the best investment service available on the market today…
Make Big Money, No Matter What– Most of the research services and systems you've probably heard about are limited to an up or down market. But what do you do when markets and stocks are flat or sideways?With my Oxford Systems Trader, you'll never get left on the sidelines. That's because my S.T.A.R.S. system works

in every type of market

.

This past year alone, my system followers had a chance at cashing in for gains of $7,487… $10,160… $14,550… even $20,000.

In my service, we aren't looking for just typical "run of the mill" plays. We know we can do better than that… and we've proven it.

New Opportunities Equal Infinite Profit Potential– My S.T.A.R.S. system processes thousands of moves on thousands of stocks every single day. And there's no limit to the opportunities it can find.Through S.T.A.R.S. and my own research, I'm able to dig through all the rubble and identify the stocks with the greatest potential for the largest, fastest gains. And then I send them right along to you, giving you the chance to make $69,048 – or more – in just one year by following my simple "Buy" and "Sell" recommendations.
Minimal Risk– My system works in a very different way to eliminate the biggest threat investors face: emotional trading.It's based on proven algorithms that identify stocks based purely on the numbers, not gut feelings or guesswork. This significantly reduces risk.
The service is built to ensure you regularly collect the largest payouts the stock market has to offer.
As one of my system followers John B. recently wrote in, "I just did well on Spectrum Pharmaceuticals, 133% to be exact. Keep the triple-digit gainers coming."
I simply cannot think of any other system like mine that, based on complex mathematics and zero emotion, gives you the potential to make $1,918 – or more – every 10 days… or almost $69,048 – in just one year!
And the sooner you join me, the more you stand to gain.
All you have to do is become a subscriber of my Oxford Systems Trader today.
Join Now
You Won't Find This Anywhere Else
Plenty of people have tried to replicate a system like S.T.A.R.S. since I launched it four years ago.
And I don't blame them…
But the fact is, no one else has come close to the proven results of my system…
And to be honest, I doubt they ever will.
My Oxford Systems Trader is truly a unique service. It offers…
Market-crushing profit opportunities that can return thousands of dollars in a matter of days…
Exclusive insights and updates on how to play each position for maximum gains and minimal risk…
The backing of a supercomputer that has proven its power to analyze billions of variables in seconds and pinpoint the best opportunities – in any market…
And much more.
You've already seen for yourself the power of S.T.A.R.S. and my Oxford Systems Trader. I've shown you example upon example from my back tests…
But more importantly, I've shown you dozens of real-life examples… and the proven results real people have had following my system.
Like Kevin M., who made $9,000 in two months…
James O., who made 307%… 250%… 190%… and 212% in just one year…
Tom M., who wrote in to say he already made back the cost of my Oxford Systems Trader in just three days on my first two picks…
Or Bill L., who made a profit of $9,107 on just one of my recommendations.
That's why I know that $5,500, the price for a full year of my Oxford Systems Trader, is an incredible value.
I know you don't want to miss out on this opportunity to join me for the launch of my upgraded S.T.A.R.S. system…
A chance to collect an extra $1,918 – or more – every 10 days…
And I don't want you to miss out either.
But as I mentioned before, it's important when making a decision on a service like this that you have a chance to test it for yourself.
That's why I've arranged to give you 60 days to take it for a "test drive." You can follow the recommendations… see how the alerts are presented… and decide whether you think my system is as good as I'm claiming it to be.
That way, you have a chance to see for yourself how powerful S.T.A.R.S. truly is.
And if at any time during that first 60 days you're unsatisfied with my service, one quick phone call is all it takes to cancel. We'll immediately refund your entire subscription charge – less a 10% processing fee.
It's my hope that this discount and guarantee will give you – and everyone else who sees this – a chance to collect these extraordinary payouts.
You see, as I take my upgrade live, I want to give as many people as I can the opportunity to try my system.
In just a few days, my system upgrade will go live and the price will increase dramatically.
To get started now, simply click the button below.
Join Now
Here Today, Gone Tomorrow
You could be among the first to experience how my upgraded S.T.A.R.S. system can help you book gains in the $70K range this year, based on the track record I've amassed with my system.
Just remember, this offer is available for only a very limited time.
The moment my system upgrade goes live, the price of my Oxford Systems Trader will increase dramatically.
To sign up now, click here. Or call our staff at 888.570.9830 or 443.353.4537 and mention your Offer Code: WOSAR303. They can answer any questions you may have about the service and help you get started right away.
Hoping your longs go up and your shorts go down…
Sincerely,



Marc Lichtenfeld
Editor, Oxford Systems Trader
Chief Income Strategist, The Oxford Club
January 2015
Join Now